"Down-the-middle" Alexa speaker
Full access to Alexa for playing music, setting timers and much more
Music quality better than Echo Dot but worse than premium devices with Alexa built in (Sonos One, Echo Plus and Echo Show)
For the 22 best things you can do with Alexa right now, check out the VoiceBrew 22
4.5 stars | 38,000+ customer reviews
#2. Echo Input — $20 (43% savings versus 2 days ago!)
Adds Alexa to your existing speakers (if they are compatible)
Slim, nondescript device connects via audio cable or Bluetooth
Access to lion's share of Alexa features offered on Echo devices, including playing music, setting timers, controlling smart devices and much more (drop-in and calling not supported)
Good solution if you already have speakers you like
For the 22 best things you can do with Alexa right now, check out the VoiceBrew 22
4 stars | 100+ customer reviews
#3. Echo Show — $180 ($50 savings + free smart bulb!)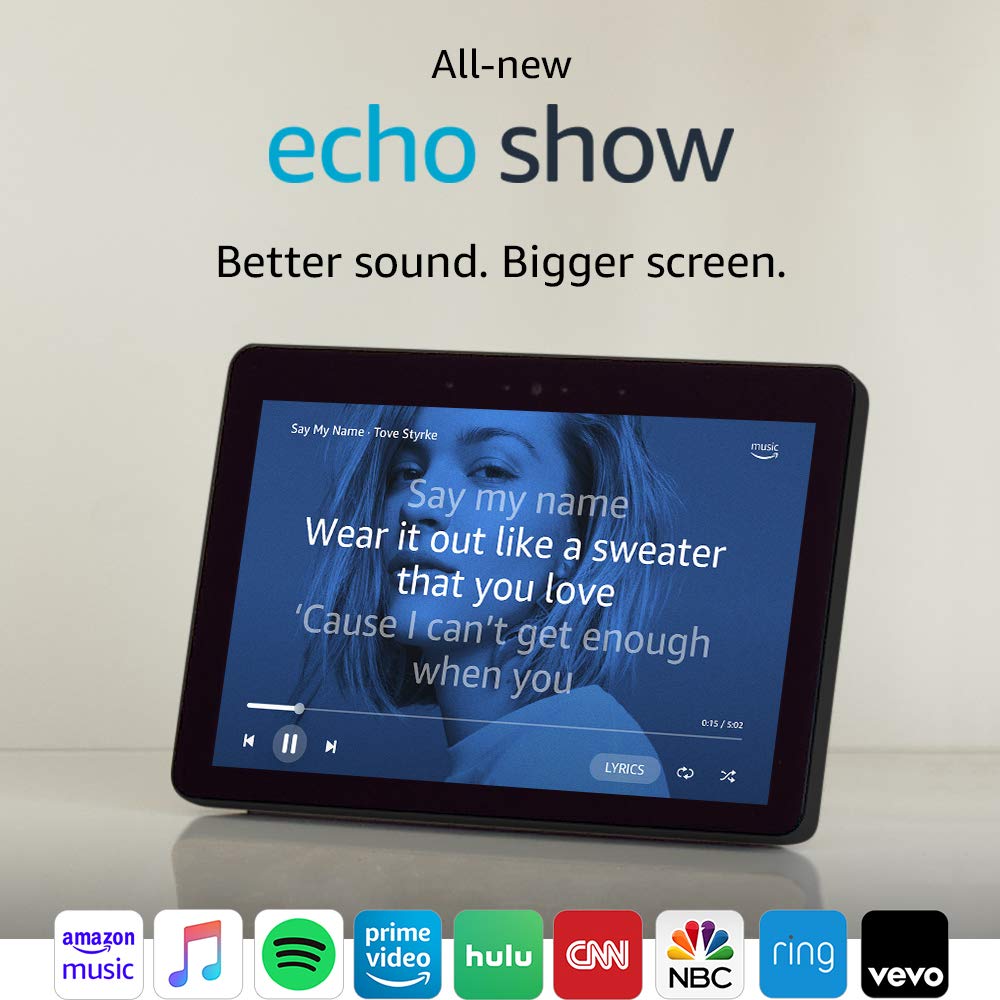 The premium Echo device (and at a premium price) — large screen, quality speakers, video camera, built-in home hub and more
Access to everything Alexa has to offer
Large screen means you can watch movies, shows, live sports and more (from Prime Video, Hulu and others) and improves many skills (seeing weather, timers, lists and more)
Best sound quality of all Amazon-brand Echo devices (but worse than Sonos)
Built-in camera enables video chat with other Echo devices and mobile phones with the Alexa app (you can also easily turn the camera off)
Built-in Zigbee* hub to set up and control smart devices (like smart lights) eliminates need to buy a separate third party bridge or hub (only other Echo device with this capability is the Echo Plus)
For the 22 best things you can do with Alexa right now, check out the VoiceBrew 22
4.5 stars | 2,000+ customer reviews
*Zigbee is a standard used by many manufacturers that allows their smart products talk to other smart products
#4. Echo Plus — $120 (20% off!)
Premium Echo device with built-in home hub and higher quality speakers than Echo and Echo Dot
Full access to Alexa for playing music, setting timers and much more
Built-in Zigbee* hub to set up and control smart devices (like smart lights) eliminates need to buy a separate third party bridge or hub (only other Echo device with this capability is the Echo Show)
Better sound quality than Echo and Echo Dot (but worse than Sonos)
For the 22 best things you can do with Alexa right now, check out the VoiceBrew 22
4.5 stars | 1,800+ customer reviews
*Zigbee is a standard used by many manufacturers that allows their smart products talk to other smart products
4.5 stars | 5,000+ customer reviews
Unlimited access to any song
Current promotion is for new subscribers that are Echo owners
Always ad-free
Listen offline with unlimited skips
Hands-free listening with Alexa
#7. Echo Spot — $100 ($30 savings!)
Small Echo device with a 2.5" screen and camera for video chat
Full access to Alexa for playing music, setting timers and much more
Works well as a bedside alarm clock
For the 22 best things you can do with Alexa right now, check out the VoiceBrew 22
4.5 stars | 8,000+ reviews
#8. Echo Dot Kids Edition + 1 year of FreeTime Unlimited– $35 (half price for device + $83 value for 1 year of FreeTime Unlimited!)
Echo Dot specially created for kids — so they can experience Alexa as a kid-friendly DJ, comedian and storyteller
Includes 1 year of FreeTime Unlimited ($83 value) with access to over 1,000 Audible books for kids (like Beauty & the Beast and Peter Pan) thousands of songs and kid-favorite games and skills from Disney, National Geographic, Nickelodeon and more
Gives your kids access to Alexa but with parental controls like setting daily time limits, filtering explicit songs from Amazon Music, Apple Music, or Spotify, pausing Alexa on the device and reviewing activity
For the 22 best things you can do with Alexa right now, check out the VoiceBrew 22
4 stars | 1,000+ reviews
Other Great Deals Right Now
AmazonBasics Microwave (works with Alexa) reduced to $42 ($18 savings!)
Echo Auto reduced to $25 (half price!). Amazon announced the Echo Auto in September, and since then over 1 million people have pre-ordered it. I tried to buy it, but it's currently available "exclusively by invitation." You can request an invitation by clicking the request invitation button. If you're even slightly interested in possibly buying it, you might as well click to lock in that $25 price!
What about promotions for Echo Dot?
They're currently out of stock, which may be why Amazon isn't promoting them beyond the $30 price they have been listed at for some time now.