Echo Show and Echo Spot are the two Echo devices with a screen.
If you want an Alexa experience with the benefits of a screen to display information, the choice is clear: get an Echo Show.
What it comes down to: (screen) size matters
Echo Show's 10" HD screen significantly upgrades user experience, while Echo Spot's 2.5" screen is so small that it can't do much for you.
Want to watch Hulu on your 2.5" Echo Spot screen? I don't think so.
Echo Show is the best Alexa speaker money can buy
Echo Show is the most premium Echo device with a large screen, quality speakers, video camera, built-in home hub and more.
It also comes at a premium price. You can currently get it for $190 with a free smart bulb (over $50 savings!), but it's usually priced at $230.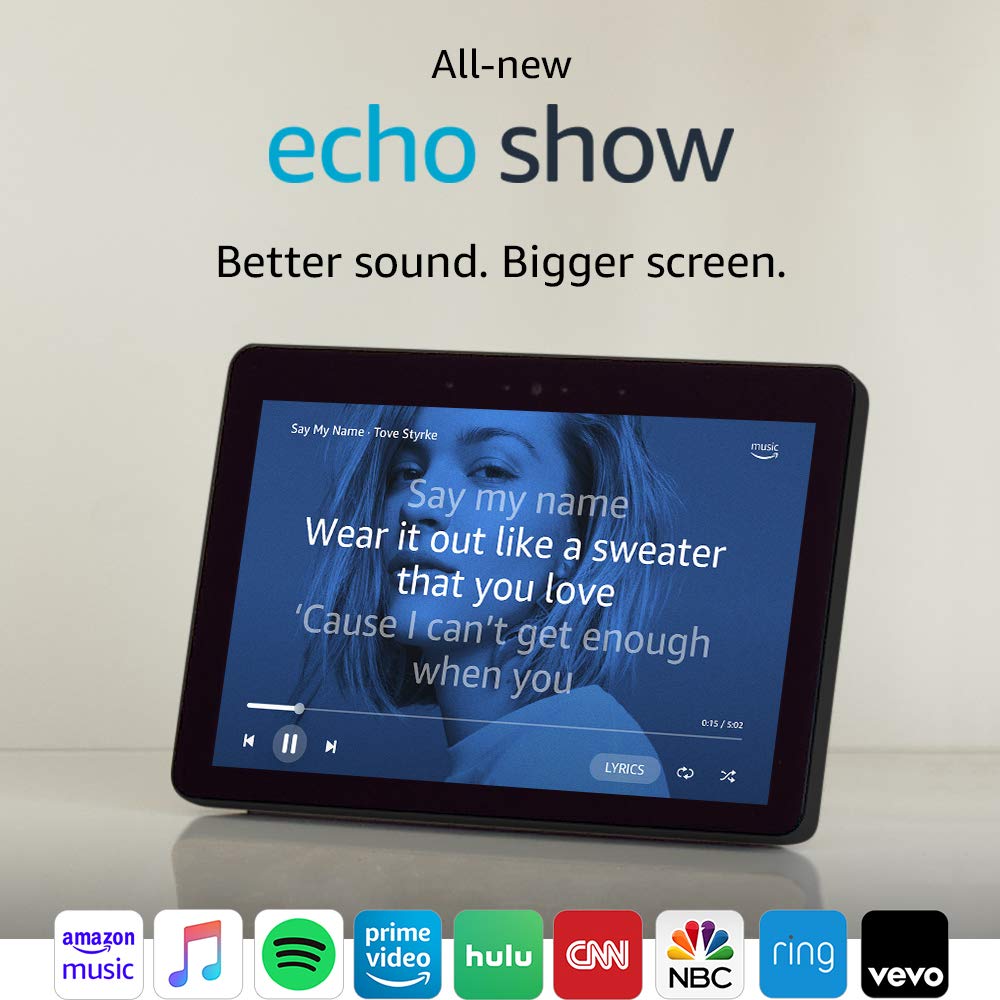 Access to everything Alexa has to offer
Large screen means you can watch movies, shows, live sports and more (from Prime Video, Hulu and others) and improves many skills (seeing weather, timers, your upcoming Amazon deliveries, lists and more)
Best sound quality of all Amazon-brand Echo devices (but worse than Sonos One)
Built-in camera enables video chat with other Echo devices and mobile phones with the Alexa app (you can also easily turn the camera off)
Built-in Zigbee* hub to set up and control smart devices (like smart lights) eliminates need to buy a separate third party bridge or hub (only other Echo device with this capability is the Echo Plus)
For the 22 best things you can do with Alexa right now, check out the VoiceBrew 22
4.5 stars | 3,000+ customer reviews
Best Deal on Echo Show
If you're willing to settle for a smaller screen and reduced sound quality, buy a used 1st Generation Echo Show for as little as $85.
*Zigbee is a standard used by many manufacturers that allows their smart products talk to other smart products

Echo Spot is an overpriced alarm clock
The $130 Echo Spot is billed as a smart alarm clock for your bedside table. It has a 2.5" screen and comes with a camera (who wants a camera in their bedroom anyway?).
On the positive side, it's well-designed and small, can easily tuck into different spots in your home, will show some headlines and the weather on its small screen and has video chat. And it would be unfair not to highlight its 4.5 stars and 9,000+ reviews.
The problem is that it costs 3x more than the Echo Dot but, with a screen that's only 2.5", it's not nearly 3x better. I'd rather just have a few Echo Dots all around my home!
See Also
8 Alexa Settings That Will Seriously Upgrade Your Alexa Experience