The Alexa App Is More Useful and Streamlined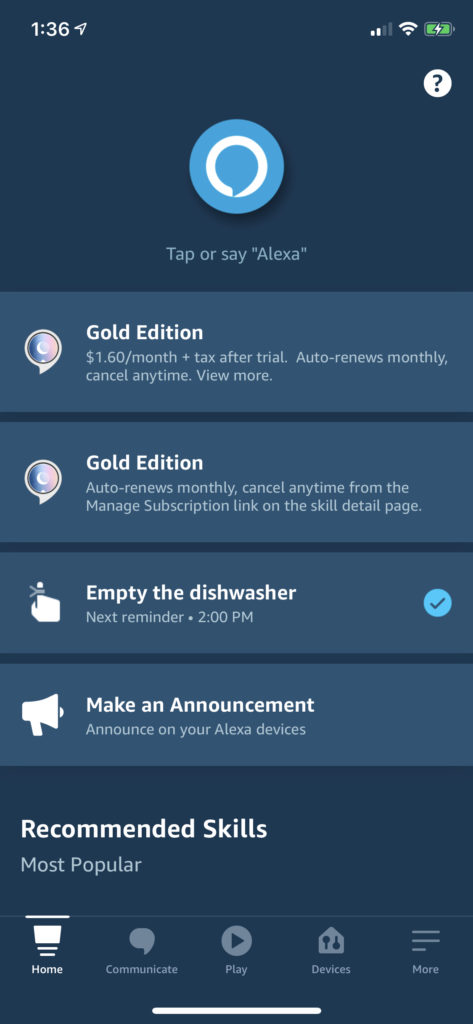 The Amazon Alexa team is definitely stepping up their game on mobile.

Following the hands-free update I told you about a few weeks ago, they've continued to roll out some fantastic improvements to the Alexa app so you can more easily access Alexa even when you're not close to one of your Echo speakers.

My favorite update? The new shortcuts to frequently used (and recently used) skills and featuresat the top of the home screen. I make a lot of announcements, so I have a helpful announcements shortcut I can tap to make an announcement across my Echos.

The new app also provides more personalized suggestions for skills and features you might enjoy. Scroll through the homepage, and see what else Alexa has to offer that I haven't shared with you yet 🙂

If your Alexa app hasn't updated yet, go into the App Store or Google Play, navigate to the Alexa app, and see if there's an option to update it. If that still doesn't help, it means you have to wait a little longer for the the new app to roll out to you.
The hamburger icon is gone! (Plus 2 more changes to know)
Bye, bye, hamburger icon in the upper left corner! 
I know this change has caused a lot of confusion with VoiceBrewers! Now you access the main menu (where you find settings, routines, alarms, etc.) by tapping "More" on right of the bottom navigation bar.
Just say "Alexa" and then your request 
Once you're in the app, you can "wake" her just by saying her name like you do to an Echo (no tapping necessary!).
Ask Alexa to open apps hands-free
You can now ask Alexa to open a handful of smartphone apps, though you can't have Alexa voice operate them (yet!). This might come in handy if you need to quickly access an app, and it's buried somewhere on your smartphone.