If you have Alexa, you've probably asked her for the weather. But what you probably don't know is that Alexa can give you way more than just the temperature and whether it's going to be rainy or sunny.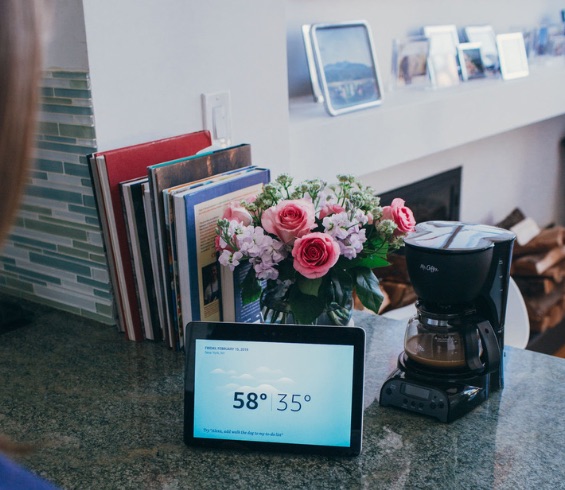 Get Alexa Weather Like A Pro
The 6 tips to turn Alexa into your personal weather woman:
#1. Alexa weather basics
When you say "Alexa, what's the weather," Alexa will tell you the current temperature and conditions (mostly sunny skies, rainy, etc.) and the high and low for the day — all for the location associated with your Alexa device (unless you ask for another location).
You can ask follow up questions like "Alexa, is it windy?" or "Alexa, will it rain today?" But try "Alexa, what's the real feel temperature?" and you'll be out of luck.
#2. Where to get the weather detail you need? Big Sky!
Before I tell you why Big Sky is so great, let me preface that I'm writing about Big Sky because I'm a big fan (I'm not being paid).
Want to hear the real feel, forecast for the next hour and what time it might rain later in the day (and even more helpful details if you ask)? The Big Sky weather skill will have it for you.
With 4.5 stars and over 2,500 reviews, Big Sky is one of the most popular Alexa skills (and it's free!). People love Big Sky because it almost always has the answers and delivers them in short, easy-to-understand snippets. Plus, Big Sky sources high quality, hyperlocal weather data for your location.
Fun Fact
Big Sky started as a passion project for Steven Arkonovich, a philosophy professor at Reed College. He recently recorded a Voicebot podcast where you can hear more about his journey.
#3. It's easy to start using Big Sky
Follow these 4 simple steps to start using the Big Sky Alexa skill:
Enable Big Sky by tapping this link on your mobile phone
Select Open Alexa to open the skill's page in the Alexa app, and tap the Enable button
You'll automatically land on a Skill Permissions tab. Allow Big Sky to access your device address and location services by checking them off, and tap the Save Permissions button
Get today's weather! Just say "Alexa, ask Big Sky for the weather"
#4. Get even more out of Big Sky
Try asking these questions (or almost any weather question you can think of) for more detailed weather information:
"Alexa, ask Big Sky if it will rain in 4 hours?"
"Alexa, ask Big Sky what will the weather be tomorrow at 10am?"
"Alexa, ask Big Sky what the weather will be Friday in Ft. Lauderdale?" (Yep, you can get weather for other locations for free!)
Pro Tip
If there's weather information you'd like to access but can't through Big Sky, get in touch with the skill creator. His email is available at the very bottom of the Big Sky FAQ under "Get More Help," and, according to this document, he would love to hear from you!
#5. What about Big Sky premium?
For 99 cents a month (or 80 cents if you have Amazon Prime), Big Sky premium offers three features you don't get with the free version:
Personalized address labels, which let you add up to 4 addresses and assign them to labels like "Mom and Dad's house"
Custom weather alerts triggered by weather events — e.g., if there is going to be freezing rain or greater than 90 degree temperatures
Live radar animations so you can say "Alexa, ask Big Sky to show the radar" (only works if you have an Echo with a screen)
Should I get premium?
If you have an Echo with a screen, it's pretty cool to see the live radar animations. Or if you have a second home or frequently check the weather where a family member lives, the personalized address labels will come in pretty handy. Given the low cost, I would say go for premium if you fit into either of these categories.
How do I get premium?
Just say "Alexa, tell Big Sky I want to try Premium." No account set-up or entering credit card payment info — it's all done through your Amazon account. You can easily cancel your subscription any time by saying "Alexa, tell Big Sky I want to cancel Premium."
#6. Customize Big Sky for you
Follow these steps so you can more easily get weather information delivered the way you want it:
Open Big Sky in the Alexa app by tapping here on your mobile phone
Select Open Alexa to open Big Sky's page in the Alexa app, and tap the Enable button
Tap the Settings button and then tap the "Link Account" blue text
Scroll down and skip entering your address (Big Sky defaults to the address associated with your Alexa device, which is the correct address for most)
Scroll more to see and edit how your forecast is delivered (basic or detailed forecast info, fahrenheit or celsius, etc.)
Scroll more to add custom addresses so you can ask for the weather at "Mom and Dad's house" (this is a premium feature, but you can try it free for a week)
Tap the Submit button and then tap the X in the upper right corner